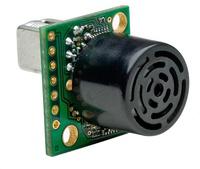 Ultradźwiękowy czujnik XL-MaxSonar-AEL0 (MB1360) jest czujnikiem działającym w zakresie od 0 do 10 m (1068 cm). Praktycznie brak martwej strefy. Przedmioty w odległości mniejszej niż 1 mm od czoła czujnika mogą zostać nie wykryte (czyli jeżeli coś przykryje czujnik to może to zostać nie wykryte). Przedmioty w odległości mniejszej niż 25 cm zostaną wykryte, ale odczyt odległości będzie 25 cm. Posiada szeroką wiązkę. Zasilanie od 3.3V do 5.5V, pobór prądu 3.4 mA (średnio).
Czujnik oferuje odczyt w następujący sposób:
* wyjście analogowe z krokiem napięcie zasilania/1024 na 2 cm
* wyjście szeregowe (serial) z sygnałem wysokim na poziomie napięcia zasilania
* wyjście AE – _analog envelope_ czyli rzeczywisty przebieg sygnału
Jest to czujnik bliźniaczy do MB1260 różni się tym, że ten ma wyjście AE, MB1260 ma zamiast tego wyjście PWM.
Czujnik dokonuje autokalibracji w zakresie temperatury, wilgotności i szumu tła. Działa na częstotliwości 42 kHz. Fizyczne rozmiary czujnika – 20 mm x 22 mm x 25 mm (mieści się w takim prostopadłościanie). Czujnik przeznaczony jest do pracy w pomieszczeniach zamkniętych. Temperatura pracy 0 – 65 °C. Szczegółowy datasheet w sekcji 'Pliki'.
Opis jak zbudować prosty sonar podpięty do Arduino. http://dlvr.it/3F8Mtz